When the Spring Festival is approaching, it is also the time when the house is concentrated. After receiving the keys, the owners often find the decoration company to decorate. How to guarantee the construction quality of the New Year's decoration? What should I pay attention to before the holiday? How to protect the construction site during the holiday season? Answer the questions about the Spring Festival.

1. What should I pay attention to during the renovation of the New Year?

A: First of all, we must confirm whether the after-sales service can be in place. It is very important for the owners who make renovations throughout the year. Different Chinese companies have different holiday arrangements for the Spring Festival. Many workers will have a 10-day to a half-month holiday. Therefore, the owner must write the negotiated "cross-year" renovation items into the contract.

2. What should I pay attention to before the holiday?

A: The work stoppage before the holiday should pay attention to ensure the completion of the single decoration. Specific to a single item in the renovation project, it must be ensured that the individual projects are completed before they can be shut down. If you are unable to complete a project within the scheduled downtime, do not be too anxious, it is best to start work after the year. The brand decoration company has strict project management for the New Year's decoration. For the construction that can't be stopped during the Spring Festival, the construction will be completed under the premise of ensuring the quality of the project.

3. What matters should be paid attention to during site protection during the festival?

A: Make reasonable arrangements according to the progress. If the leveling layer is being cured, a basin of water can be placed to increase the humidity in the room to prevent drying. For woodworking, the primer needs to be brushed before the work is stopped, and the cracked wood is easily cracked due to the dry weather. Place the wood as horizontally as possible and position the balance point to place heavy objects on it. There are two points of force due to the vertical placement, and the wood is prone to deformation over a long period of time. In addition, many of the decoration materials are flammable substances. In addition to requiring the construction company's construction personnel to clean up the construction site before leaving, the owner himself should also go to the site to check it out, and make water, electricity, gas, etc. as much as possible. shut down. If you have time, it is best to check it out often during the holiday season. Reporter Feng Xianghui finishing

Numbers & Alphabets Puzzle Mat has a total of 10 pieces numbers 0-9 and 26 pieces alphabets A-Z.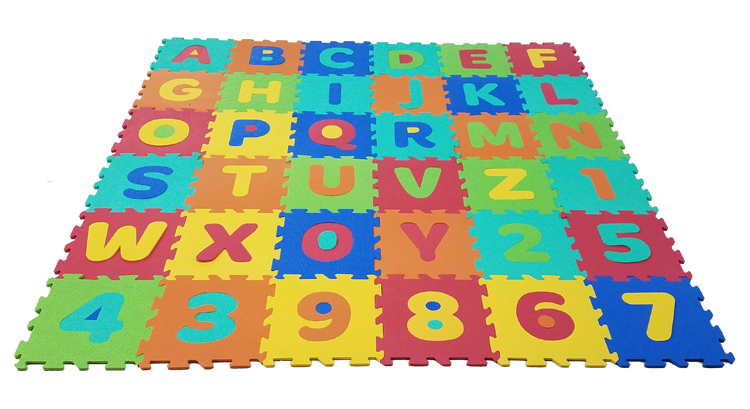 Made from bright, assorted colors that can be easily arranged to you or your child's preference. Made out of high density Eva Foam for the greatest durability and comfort. Eva foam is durable, non-toxic, premium foam that is lightweight and easy to assemble. It is also water, mold and mildew resistant which makes it easy to clean. Just wipe with damp cloth & mild soap. Build creative shapes too each letter and number can be removed from the Baby Puzzle Mat for interactive learning, allowing children to develop gross motor skills, hand-eye coordination, logic, reasoning, and visual sensory growth. Use to design play areas in homes, schools, day cares, and more. Can also be used on walls around play area. The top of the Foam Puzzle Mat is grooved with a non-skid bottom for ultimate safety and protection.

Numbers & Alphabets Puzzle Mat

Numbers & Alphabets Puzzle Mat,Alphabet Number Puzzle Mat,Numbers & Letters Puzzle Mat,Non-Toxic Toys Mat,Baby Number Puzzle Mat,Eva Number Alphabet Puzzle Mat

Huizhou Melors Plastic Products Factory , https://www.melorsfoam.com