Model NO.: Toynol DS-195L

Trademark: Toynol

Specification: 40%

Origin: Tianjin

HS Code: 3402130090

Toynol® DS-195L/195H Dispersing AgentCharacteristics

High performance dispersing agents in water-based system
 

Good wetting effect to pigment and fillings
 

Outstanding deflocculation
 

Provide powerful charge repulsion property
 

Suitable for various powder
 

Reduce viscosity of grinding system, improve color development of millbase
 

APEO free
 

Chemical Components

Solution of high molecular polymers with pigment anchoring group

Highly Recommended Applications

Iron oxide, Transparent iron oxide

Titanium Dioxide

Carbon black

Organic pigments

Physical properties
Typical Properties
Item
DS-195L
DS-195H
Appearance
Yellow transparent liquid
Yellow transparent liquid
Content(%)
40%
40%
Solvent
water
water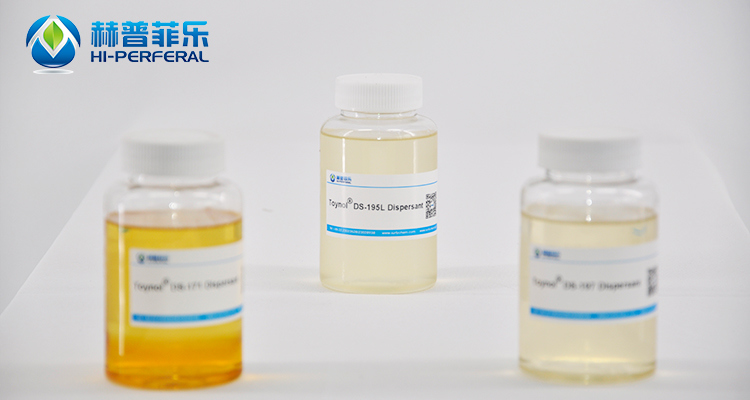 Grinding operation

Dispersing sand mill, Glass bead(0.8-1.2mm), Filling rate 70%

3000rmp/min  60min

Performance evaluation
Centrifugal stability: take 20ml millbase into centrifuge tube, centrifuge 10 min under condition of 3000r/min, then take out to observe the layering of millbase. Pour out liquid and calculate amount and percentage of precipitate.
Viscosity evaluation:Use Brookfield rotational viscometer.
Fineness measure:Scraper fineness meter
iscosity stability:Store millbase in 100ml wild-mouth bottle at 40ºC for 24 hours, measure viscosity change,  ±50% change is regarded qualified.
Example1

(★:Excellent  ☆:Good )

Experimental pigment: transparent red iron oxide TR-718, powder content 40%

Inorganic pigment content:Â Â Â Â Â Â Â Â  40

Dispersant dosage(as supplied):Â Â Â  40

Sodium hydroxide:Â Â Â Â Â Â Â Â Â Â Â Â Â Â Â  Appropriate amount(PH mixed to 8-9)

Defoamer(Toynol

®

):Â Â Â Â Â Â Â Â Â Â Â Â Â Â  0.1-0.3

Wetting agent(Toynol

®

):Â  Â Â Â Â Â Â Â Â Â Â 0-0.3(as appropriate)

Water:Â Â Â Â Â Â Â Â Â Â Â Â Â Â Â Â Â Â Â Â Â Â  Â Â Â Â add to 100
| | | |
| --- | --- | --- |
| Item | Toynol®DS-195L | Imported dispersant |
| Dispersant dosage(SOP) | 40% | 40% |
| Wetting of original powder | Quick | Very quick(foaming seriously) |
| Stock solution stability (centrifugation) | ★ | ☆ |
| Dilution stability(centrifugation) | ★ | ☆ |
| Millbase viscosity | ★ | ☆ |
| Dispersion fineness(μm) | ≤2.5 | ≤2.5 |
| Change of storage viscosity | Without thickening and thixotropy | Without thickening and thixotropy |
Example2

(★:Excellent  ☆:Good )

Experimental pigment: Titanium dioxide R-996 , powder content  35%

Organic pigment content:Â Â Â Â Â Â Â Â Â  70

Dispersant dosage(as supplied):Â Â Â  10.5

Defoamer(Toynol

®

):Â Â Â Â Â Â Â Â Â Â Â Â Â Â  0.1-0.3

Wetting agent(Toynol

®

):Â  Â Â Â Â Â Â Â Â Â Â 0-0.3(as appropriate)

Water:Â Â Â Â Â Â Â Â Â Â Â Â Â Â Â Â Â Â Â Â Â Â  Â Â Â Â add to 100%
| | | | |
| --- | --- | --- | --- |
| Item | Toynol®DS-195L/H | Toynol®DS-194L | Imported dispersant |
| Dispersant dosage(SOP) | 6% | 6% | 6% |
| Wetting of original powder | Quick | Quick | Very quick |
| Stock solution stability (centrifugation) | ★ | ★ | ☆ |
| Dilution stability(centrifugation) | ★ | ★ | ☆ |
| Millbase viscosity | ★ | ★ | ☆ |
| Dispersion fineness(μm) | ≤2.5 | ≤2.5 | ≤2.5 |
| Change of storage viscosity | Without thickening and thixotropy | Without thickening and thixotropy | Without thickening and thixotropy |
(When actual operation:First add dispersant into water, then add powder, 4000rmp/min 10min. After powder completely wetting, put into grinding glass beads to start timing grind.)

Recommended Applications
Water-based inks
Architectural coating
Wood and furniture coatings
Automotive coatings
Can coatings
Anticorrosive paint
Leather coatings
Operation proposals       
Suggested dosage of organic pigment(Based on pigment, Toynol® dispersants calculate solid content SOP):10-50%;
Suggested dosage of inorganic pigment(titanium dioxide)(Based on pigment, Toynol® dispersants calculate solid content SOP):3-7%;
Do not add wetting agents separately;
Toynol® wetting agents can accelerate original powder wetting;
Adding Toynol® defoamers can quickly eliminate grinding foam;
To obtain optimal performance, Toynol® additives must be added in water before resin and pigment;
Advise gradient test to get optimal dosage;
Packaging/storage

25L/plastic drum;220L/iron drum

As liquid material, this product should be sealed and placed in a dry, cool, well-ventilated place at room temperature

 

Maltodextrin In Food,Maltodextrin Food Additive,Digestion Resistant Maltodextrin,Maltodextrin Uses In Food

Shaanxi United Xingchuang International Co., Ltd. , https://www.lxcgj.com